What is Dynamic Discounting?
Dynamic discounting is a solution that can be used by Buyer to enable option of early payments to its suppliers in exchange for a discount on their invoice. Generally, Buyer uses their own surplus fund for this to optimize better risk free return on their funds in the form of cash discount. While Buyer benefits from better ROI on funds, it gives the option to SME to faster liquidation of its receivables into cash and this is generally a better option for SME than taking a collateral free loan from any financial institution.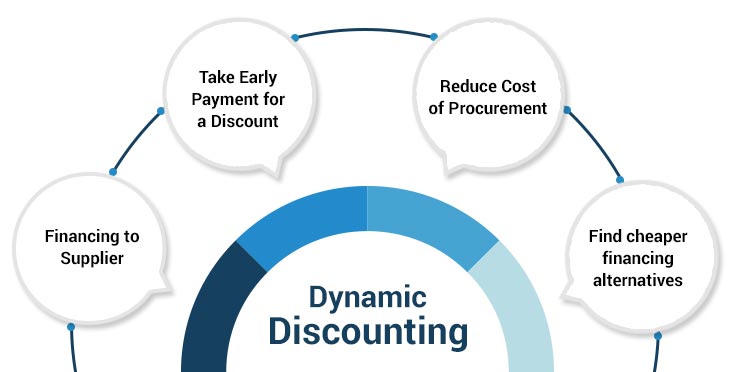 Today, there are a lot of flexible models available under Dynamic discounting which can be implemented as a program for Buyer basis their requirement.
In a typically implemented Dynamic Discounting Model, Suppliers can log in and opt for early payment basis their cash requirement by accepting the cash discounts. The early payment discount happens without any tedious paperwork or collaterals as are generally asked in any direct loan financing for SME.

Higher risk-free return on surplus funds than FD or other investment options

Early Payment Discount gets added to Treasury Income

Better profitability as return directly increases the EBITDA/Net Profit of Buyer

Help to grow your Supplier Channel by making early funds available. It also helps ensuring timely supply from Suppliers who generally struggles for working capital impacting their supply

No capex cost of implementation of automated solution

Availability of faster & Affordable mode of financing, much better than Loan financing

Faster liquidity that helps to grow business

Minimises the risk of Bad Debt due to delayed payments

DSO Reduction

No capex cost of accessing the automated solution

Better visibility and control over process due to transparent system
What RAMSUN Network offers?
Seamless one-time integration, no further integration needed for other solutions

Expert Team to implement the right solution for you. Flexible models available basis the requirement of Buyers and their Suppliers

Automated Solution, minimum cost of implementation

Artificial Intelligence enabled solution for predictive analysis resulting in better price discovery

Holistic automated solution when combined with RAMSUN Supplier Management Tool

Easily changeable between self-funded Dynamic Discounting model to Third Party financed Supply Chain Finance Solutions